May 2022 BTO: Unit Analysis for Lakeside View at Jurong West
In Singapore, it's not every day you get to say you live in a flat that has lake views. But Lakeside View, one of the BTOs launched back in May 2022, has units just like that overlooking Jurong Lake. We review our site visit to this Jurong West BTO and do an in-depth analysis of the best units to opt for when you make your flat selection.
BTO
Lakeside View
Location
Next to Jurong Lake and Jurong Lake Gardens
PLH model?
No
Total no. of units
1,016
Unit types
2-room Flexi, 3-, 4- and 5-room
No. of blocks
7
Highest storeys
11 to 18
Estimated completion date
4Q2026
Pricing
2-room Flexi 1: $107k to $145k
2-room Flexi 2: $133k to $180k
3-room: $215k to $265k
4-room: $320k to $393k
5-room: $412k to $525k
Nearest MRT station
Lakeside MRT station (~4-min walk)
Primary schools within a 1-km radius*:


*distance based on approximation, may differ depending on block

Boon Lay Garden Primary School
Lakeside Primary School
Rulang Primary School
Shuqun Primary School
Amenities within walking distance
• On-site cafe
• Jurong Lake and Jurong Lake Gardens (~5-min walk)
• Kimly Coffeeshop at 346A Kang Ching Road (~6-min walk)
• Taman Jurong Shopping Centre (neighbourhood centre) (~9-min walk)
• Taman Jurong Market and Food Centre (~10-min walk)
Site visit
Lakeside View BTO, looking towards Kang Ching Road.
Site for Lakeside View, looking towards Yuan Ching Secondary School.
Stacks overlooking or adjacent Yuan Ching Secondary School are likely to be subjected to high noise levels from the school's various activities.
Plenty of bike lanes around the estate.
Lakeside View site, taken from across Yuan Ching Road. The area has moderate vehicular traffic and footfall when we visited the site during a weekday afternoon. Things do pick up during peak hours though, because of the school, and during weekends because of Jurong Lake Gardens.
Yuan Ching Road.
Jurong Lake Gardens is located right across from the BTO.
Lakeside MRT is a short walking distance from the BTO.
The units to choose for Lakeside View
Lake views
The highly coveted units? The ones with views of Jurong Lake and Jurong Lake Gardens, obviously. These are the stacks with them: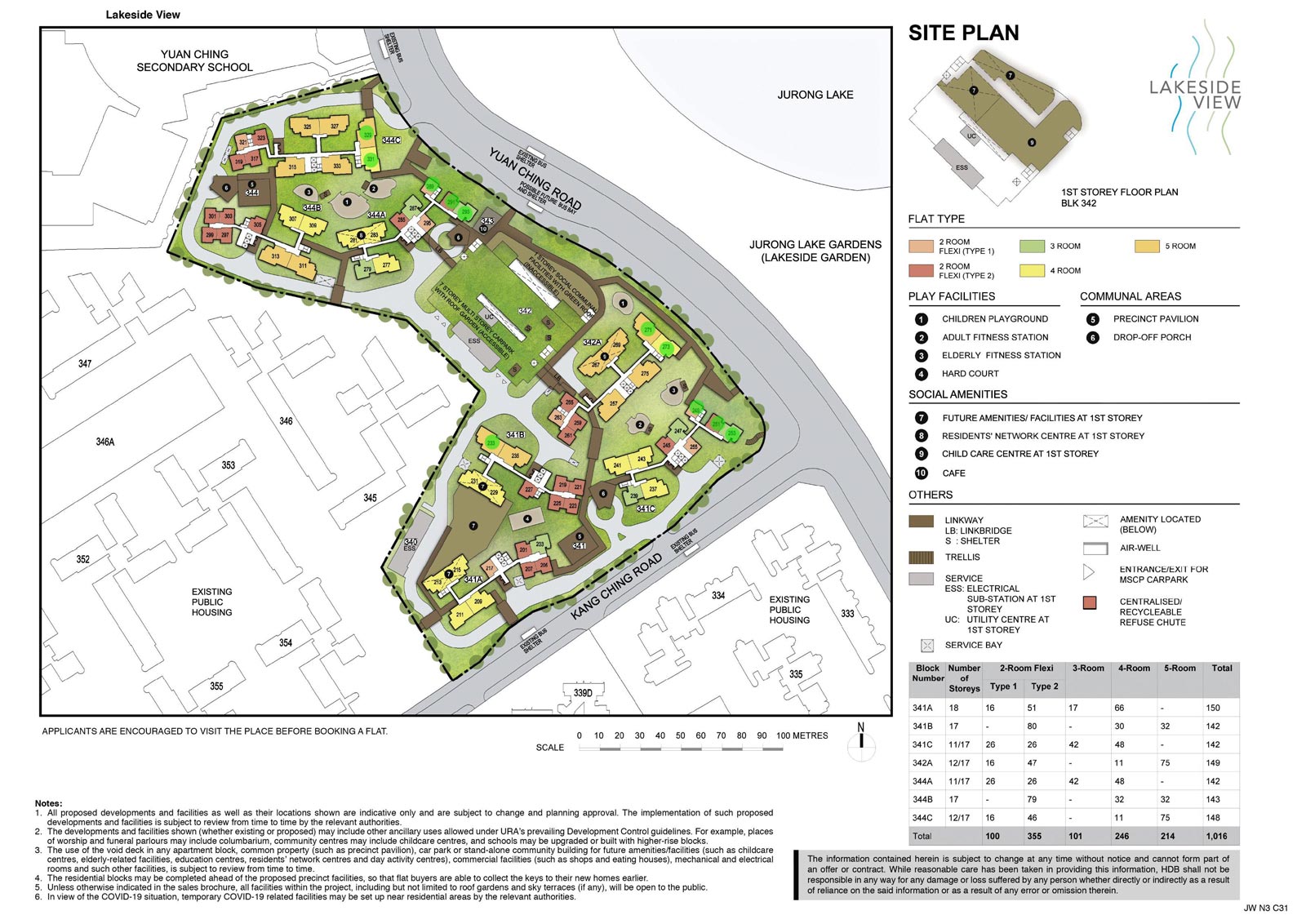 2-room: 249, 251, 289, 291
3-room: 253, 293,
4-room: 273, 331
5-room: 233*, 271, 329
*At this stack, only a unit on a floor that is higher than the 7-storey car park will get lake views. Stack 233's the only stack that isn't fronting the main Yuan Ching Road, so while you don't get the noise and fumes from traffic, it's also located quite a bit further away from the views.
Minimal afternoon sun
The hot afternoon sun comes from two directions in Singapore—the south-west and north-west directions, so you'll want to avoid stacks that face these two directions when choosing a flat at Lakeside View. These stacks we highlighted below are either not facing these directions or they are fortunately located at a spot where they are blocked by neighbouring stacks. TIP: It's important to note that because some of the blocks at Lakeside View are staggered, it's best to check out the 3D model of the flats to determine if the particular unit you choose will really be blocked by an adjacent stack.
2-room: 223, 225, 227, 245, 259, 261, 263*, 265*, 295
3-room: 247
4-room: 241, 243, 309, 331
5-room: 257, 267*, 269*, 275, 315, 333
*For these stacks, pick a unit that is on a lower floor than the 7-storey car park, which helps to block out the afternoon sun into the flats.
More privacy
If you want more privacy in your flats, go for a corner unit that is located at a corner and away from the lifts. You may also wish to avoid units that have another unit facing directly into yours. Do pay attention to how close the stacks are, especially if you have a stack that is looking directly into another. We've indicated some distances on the map.
Some of the units can also have the kitchen/service yard area seen from the common walkway, which can pose a minor privacy issue, although that will depend on how the project is designed. Once again, do check the 3D model to determine if there are privacy screens along the common corridor to prevent people from looking into your flat.
Do also avoid units that are located on the floor of the link bridge that connects you to the car park, since these are likely to see high foot traffic.
These are the best units for privacy: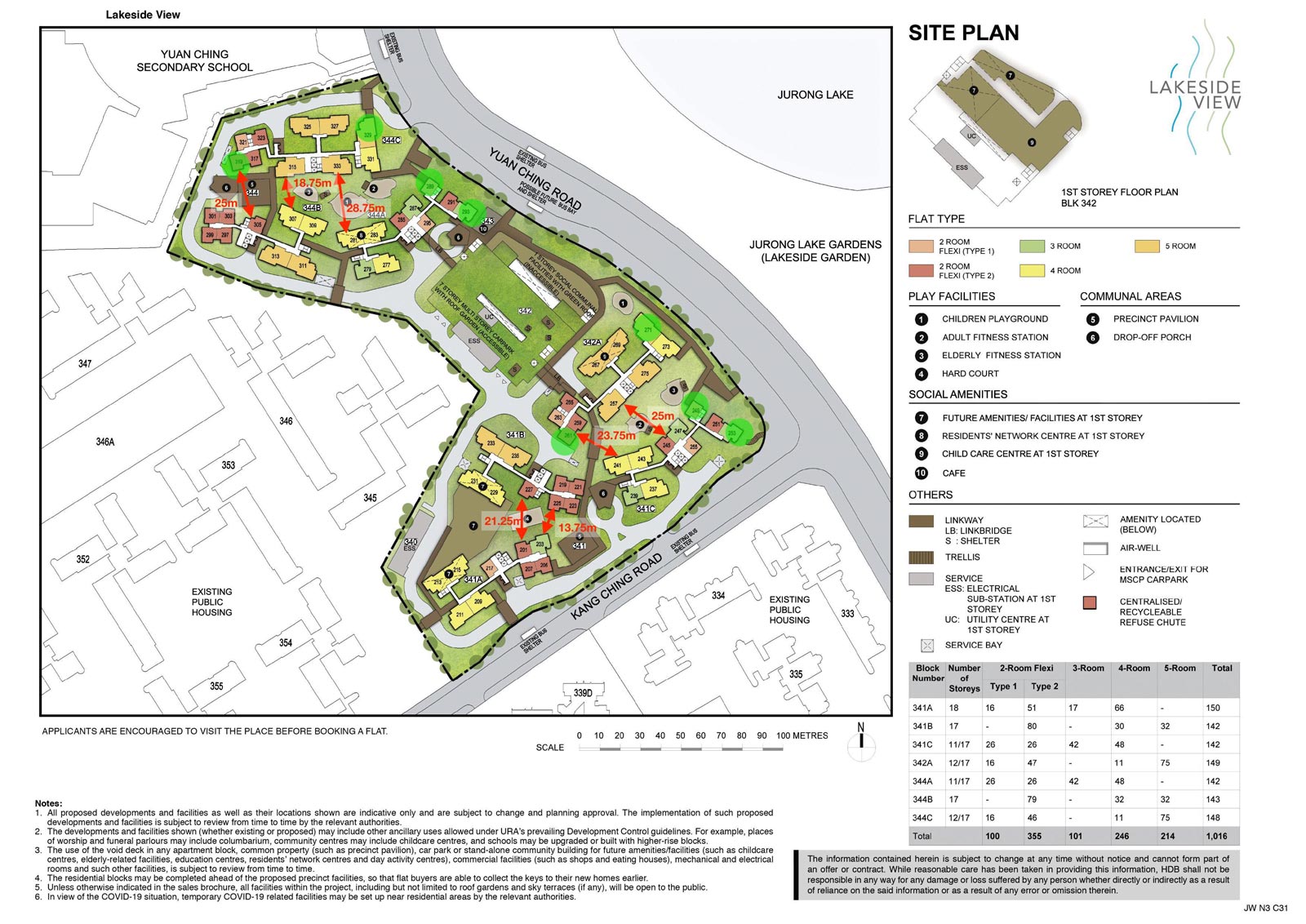 2-room: 249, 261, 289, 319
3-room: 253, 293,
5-room: 271, 329
More quietude
For those who are particular about noise, avoid units, particularly those on the lower floors, that are facing the roads and bus stops, the school (Yuan Ching Secondary School) as well as nodes where people congregate at various times of the day. The latter includes areas like playgrounds, hard court, fitness stations, pavilions, sites for future amenities, and the car park. These are the units to go for, for some peace and quiet:
2-room: 219, 221, 259, 261, 295, 297, 299
3-room: 279
4-room: 241, 277
5-room: 233, 235, 311, 313
Other factors to consider:
Blk 344C is the nearest to the Lakeside MRT.
If you are facing Yuan Ching Secondary School, you may be able to enjoy relatively unblocked views that look towards the MRT if you opt for a unit above 4/5 storeys, which is about how tall the school is. The site beyond Yuan Ching Secondary School and beside the MRT is currently a reserve site though, according to the map on URA, so we are not sure what it will eventually become and whether the unblocked views will remain.
Meet Interior Designers. Get Quotes.
Get in touch with our listed renovation companies. They will provide you with a free non-obligatory estimate for any of the Renovation Packages included in their services.